Hey guys :)
As you can tell by the title, this is my first What I Ate Wednesday, and it's actually what I ate on Wednesday, which is why I'm posting this on Thursday.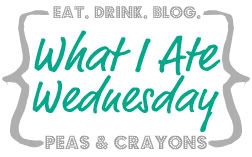 Brekky: kamut cereal cooked in water, topped with an oddly liquid-y banana strawberry vanilla soft serve, some bloobs, some strawbs, a frozen banana slice and some cinnamon.
Morning Snack: grapes!
Lunch: Hugh Jass salad with mixed baby greens, bok choy, local carrots, local-ish tofu (btw, I had the last bit in this lunch. Sad times), roasted gold beets, roasted potatoes from Planet Organic, raisins and balsamic vinegar, as well as a panini on a 9 grain triangle bun with a creamy sunflower seed tomato pasta sauce (SO GOOD), spinach and arugula, and some more local-ish tofu. I had some warm water with lemon, too, because I don't have my fave tea in my house atm and I wanted a hot drink.
Afternoon/pre-workout snack:
a pear, some bloobs and some more grapes
Dinner: delicious salad with baby greens, strawbs, bloobs, corn, avocado, soaked sunflower seeds, raisins and balsamic vinegar.
Dessert/Snacky snack while watching the Boston game:
Air-popped popcorn with a drizzle of olive oil and some pepper.
Not pictured: the handfuls of bloobs and grapes eaten in front of the fridge/while preparing meals.
You know how it is ;)
So that's what I ate on Wednesday.
What looks the best to you? What was the best thing you ate on Wednesday?
Which team do you
want to
win the Stanley Cup?

I'm going for Boston!