It's that time again (I feel like I've used that "opening line" before, but I'll go with it)...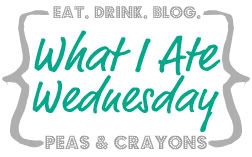 Brekky:
Green juice with a head of lettuce, three stalks of celery, a third of a bunch of dandelion greens (the ONLY bunch I could find this week in the two stores I go to), half a cuke, a piece of daikon, half a lemon, two little gold beets and a Hugh Jass piece of ginger. I also had a glass of water with a teaspoon of psyllium husk powder and a tablespoon of liquid bentonite clay. I'm hoping it will clear my skin, because I've tried everything else and nothing else has worked.
Beautiful insides mean beautiful outsides.
On a somewhat related note, if you wouldn't drink your moisturizer (or toner, or cleanser, or body wash, or soap, or self tanner), then don't put it on your face. Just sayin'.
Chem class:
I'm making my own sauerkraut!
I made like, a quarter of this recipe because I don't have enough glass containers into which I can put plates/tiny ice cream bowls.
WMBAW, aka What My Brother Ate Wednesday:
I made him a strawberry bloob raspberry nanner hemp smoothie and had a few sips.
Cool story, bro.
I also made him guac and chips, but apparently he doesn't like guac. He took the chips, though, which is weird because those chips don't taste like anything. I grabbed a handful of chips and devoured the guac. So good, and so simple. Just mash up a ripe avocado with a fork, squeeze in the juice of a lime (you can use a lemon if you don't have/don't like limes, or ACV... or nothing), and add a pinch of celtic sea salt, some pepper, and a tiny bit of cayenne. Guac in
five
three. It takes longer to locate the ingredients than it takes to actually make it. Eating it up is only a little bit longer.
Lunch:
Half a can of Amy's refried beans (I'm not a fan of canned things since most brands, even the organic ones, use BPA in the packaging, but I had to use it up. You know how it is. Also, yes, half a can. I ate the rest of the can with a spoon. SO GOOD), some local spinach and a few tomato slices on spelt sourdough bread (yeast free and local and super clean! Yay!) grilled with some EVOO on the bread. I would have totes used coconut oil (I love me some coconut oil), but it was upstairs and I didn't want to run and get it. #DefinitionOfLazy
I also had a dinky little salad with spinach, cabbage, carrots and EVOO.
Dinner:
A bowl of berries with brown rice syrup (I could live on that stuff. Nay, I
want
to live on that stuff) and cinnamon x2, not because I was hungry or needed more calories, but because it tasted so damn good. Again, you know how it is.
Again with the bread... I think I'm gonna do a real WIAW tomorrow. I feel like this one was kind of boring, and again not very representative of what I eat most of the time. I was thinking as I was doing yoga today (is that the point or is it against the purpose of doing yoga? I'm not sure) that maybe the reason why I gravitate towards bread on Tuesdays is because I get stressed out about WIAW and feel like I need to please people. That
probably
definitely doesn't make any sense, but whatever. I feel like I leave out a lot of stuff about my life/my thoughts and stuff because people would judge me. IRL I don't care what people think about me so I don't have a CLUE as to why I would care what people online thought about me. I'm done with being safe or caring about what other people think. This is
my
blog. If I wanna bitch, I'm gonna bitch. If I want to share some kooky "extreme" shit I'm doing and not worry that people are going to say I'm eating a restrictive diet because I don't regularly consume large amounts of fats (want cramps at that time of month? Eat a high fat diet) or indulge in cupcakes and cookies often (and if I do, I always make it "healthy". I feel like crap if I don't. No, not guilty, but like crap. Headaches, stomach aches, unmotivated for a few days.
Not worth it
) and live off of salads, then I will share it. If I wanna drink clay, then I will. I've been kind of down on blogging recently, so I think it's time I start doing what
I
really want to do, not what I think other people would be happy to see.
Just letting you guys know :)
Also I'm making a blueberry pie sometime next week. Vegan (duh), cane sugar-free, wheat-free and DELICIOUS, or so the recipe looks to be. I think I might also do a post on honey. I <3 the bees and unfortunately they have even less of a voice than farm animals. Maybe I'll do a food philosophy post too.
Who knows?
(Not me)
What did you eat today? Have you juiced before? If so, have you juiced daikon and/or dandelion greens? Do you like ginger? What's the weirdest, most out there thing you've done for your health?
Drinking clay is up there ;)