It's Tuesday evening, which means it's time for WIAW! Haha :)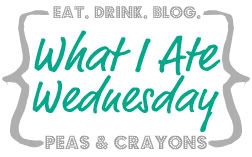 Brekky:
Mochi waffle with a nanner sliced, some bloobs and some strawbs, some raisins and coconut, and brown rice syrup. SO GOOD, but so not filling because an hour later I was hungry. Also you'll probably notice that I didn't eat a lot, but I woke up at like, noon and I generally don't eat after seven because if I do, I feel horrible when I wake up in the morning.
Snack:
Nanner with tahini, coconut flakes, raisins and cinnamon. Again, sooo good.
Dinner:
Leftover kale salad with carrots, red onion, heirloom tomato, nooch, sesame seeds, raisins and dulse flakes with a tahini lemon dressing; leftover pizza, one with the tahini lemon sauce and oyster mushrooms and the other with garlic, heirloom tomatoes and fresh basil, both bbq'd with a brown rice/arrowroot crust.
Not pictured:
The carrots I stole out of the drawer and dipped in hummus, and the strawberries, bloobs and grapes I ate in front of the fridge. Also, I just took some black bean brownies out of the toaster oven, so I might be nomming on those too.
Have you ever tried baking with beans? How did it turn out? Do you look forward to eating leftovers or do you plan on making just enough so you can have new food at every meal? What's your fave kind of pizza?