Just apologizing in advance for all the hideous pictures you're about to see. The food was wonderful, but MY computer won't charge, thus the only decent webcam is pretty much toast, and my phone is messed up (like, the phone that is less than a month old. I LOVE TECHNOLOGY), so no pretty instagram wow-this-is-better-than-my-usual-camera pictures, and my other cameras either don't load their pictures onto this computer, hence last week's lack of WIAW (and posts in general - SORRY!) and/or their chargers are MIA.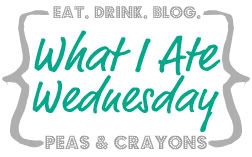 Brekky:
BEST THING EVER, aka half a cantaloupe. Yesterday I had half a watermelon for brekky. See a trend? THEY'RE SO DAMN GOOD that I just can't help myself.
Lunch:
Massaged kale and arugula (fresh from my nonna's garden!) salad with carrots, beets and sprouts (store-bought which is why they look so pretty), topped with a SUPER garlicky lemon tahini dressing; Pirate's Booty in Veggie flavour (OMG OMG OMG. I love this stuff. It's dangerous); Raw sauerkraut
Damn Good Drink:
Strawberry mint limeade. Oh my peas. Best thing I made today. Blend up seven strawberries, the zest of two limes, the rest of the two limes, about two tablespoons of fresh mint and a tiny bit of water. Strain it through a mesh sieve. Add a spoonful of brown rice syrup. Dilute with more water. Enjoy.
Dinner:
Zucchini pasta with a raw tomato basil sauce; Kale salad from lunch
Not seen:
Pre-dinner snack of cherries and more Pirate's Booty (we, as in my family and I, extra emphasis on the
I
, may or may not have polished off the whole bag in a day. I may or may not feel a bit sick ATM because of it. Totally worth it); Post-dinner snack/WIA while watching a movie (WIAWWAM? Catchy, Steph) of popcorn topped with EVOO, nooch and pepper, and two packs of frozen edamame I found in the freezer, steamed over the stove, not the microwave (I don't trust those things), both shared with my mommers.
I'm pretty happy with what I ate today. Other than the Pirate's Booty and the popcorn, everything was totally raw, and I could have gone without it. Next Tuesday (er, Wednesday? ;) ) I might try going totally raw. I know I can do it because I did it (and did it gourmet) for like, a month before, but for some reason I always have some cooked food every day. We'll see :) Also, it's crazy how much we can change in a year. My blog is like, a year and a bit old and the name is pretty much irrelevant. I went from eating sugar-laden spelt-flour baked goods to eating high raw, and I feel like this time next year I'll probably be like, 99% raw. Crazy how things change, eh? I also went from religiously following recipes and never doing my own thing (OH and rarely eating salads) to intuitive cooking (er, uncooking?), even when it comes to baking! I never measure anything, and I (almost) never follow a recipe to a T. I make changes depending on what works for me (i.e., brown rice syrup in place of cane sugar or agave. I still have yet to try yacon syrup though).
Are you an aspiring raw veg or do you see no reason to eat raw foods? Have you tried Pirate's Booty? Is your blog title still relevant? Have you tried yacon syrup? If so, what's it like? What about lacuma? Maca root? I wanna know!
:)