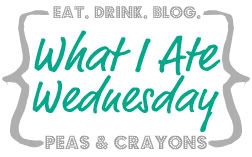 Brekky/Lunch/Dinner?
: half a reeeally big watermelon with some cinnamon and coconut flakes. I woke up around 1 PM, worked out and had my first meal around 2:30. Yup. Good life, eh? I didn't have the whole thing though because I got full pretty quickly so I just snacked on the last little bit just before my kale salad, along with some other unpictured things.
Dinner
: hail to the kale salad, recipe
here
.
Not pictured
: coconut oil and cinnamon on sprouted toast, a few apricots, the best mango I've ever had, some black grapes and some rainier cherries.
More food porn
:
grilled eggplant and red pepper on top of
sprouted toast with EVOO and a
balsamic reduction and basil
carrots and cukes with chickpea hummus
banana chia popsicles
pizza on a sprouted grain tortilla
and an arugula salad with
garlicky tahini dressing
cantaloupe with blackberries,
cinnamon and coconut
How do you feel about high protein diets? What have you been eating lately? I've been eating mostly fruit and I feel soo excellent.