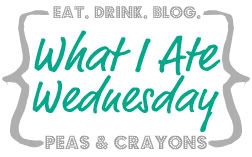 Brekky:
about four cups of grapes that I was going to juice but I didn't get to the juicer in time ;) and a bartlett pear. Note: your pears should be slightly soft. Actually, most of your fruit should be a little soft when it's ripe and ready to eat. Except, like, grapes. Also seen here is a cup o'
joe
eucalyptus healing tea. It sounded nice last night so I made a few mugs of it, and this morning I made a few more. Reuse your tea bags! It'll save you money and save a few trees and plants and gas and stuff.
Lunch:
banana soft serve. Totally didn't have enough time to eat all of it so I had like, a third of what you see here. That's still 2.5 cups, though. Yummy :)
Snacky:
more grapes! Green grapes this time. Sorry, no picture :(
Dinner:
two large Hail to the Kale salads. There's balsamic vinegar and tamari so it's not totally raw but I'm pretty sure it's the closest thing to a raw salad in the deli and I was just not digging any of the fruit we have right now.
I know it's not enough but I literally don't ever have enough time to eat at work, and I don't think I can force myself to get up any earlier than I already do. Having a decent blender would soo help. Vita or BT, please? <3
What did you eat today?